BULK
Purefruit Chile has been producing and supplying high quality aseptic purees, throughout the world, to the beverage, squeeze pouch, fruit compote and other industries.  Many of our customers are large multinational companies that have plants in different regions of the world and require that we provide different specs of the same item to fulfill each location's needs.
We are experienced in offering products catered to your needs (pesticides, mycotoxins, brix, color, etc.).  Our plant achieved an AA grade from BRC and is certified to produce organic for North America, Europe and most of South America.
Our strong ties to local growers and the education programs we have in place for them allows us access to quality fruit at competitive pricing.
TOTES
Our 1000 kg (net) cardboard totes are equivalent to 4.7 drums and fit on one pallet.  They are easily stackable up to 3 drums high, and will help reduce labor at your production facility by eliminating the need to open multiple drums.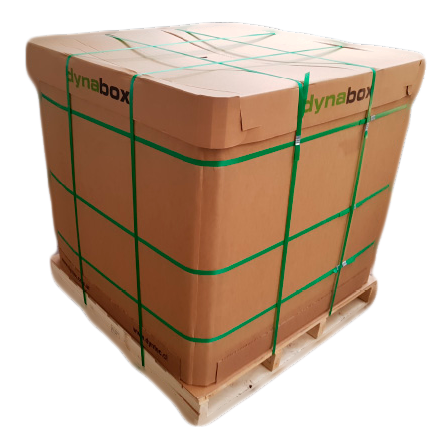 DRUMS
Our 210 kg (net) steel drums are four to a pallet and secured by straps for safe shipping.  Drums protect the aseptic bag well during transport and are easier to move around the warehouse/production facility.  They also allow for smaller batch sizes by reducing waste.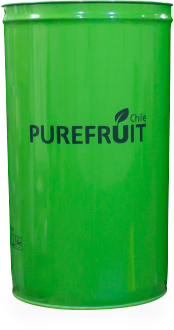 BULKCROP CALENDAR
SS Asceptic Purees
ABOUT US
The founders of Purefruit have a long history with fruit going back to 1948 when their first orchard was planted. Now, many years later and a few companies larger, the Crispi family remains dedicated to offering the world a taste of premium quality fruits.
Chile's unique geographical location provides exceptionally fertile soil and pristine waters. It is considered one of the world's cleanest environments for food production. The country has natural barriers (The Andes mountain range and the Pacific Ocean), that protect it from diseases and parasites common to most agricultural areas.
Chile is the leading country in the southern hemisphere in the production of fruits and vegetables.
We can produce over 20,000 mt of high quality single-strength aseptic fruit puree and over 50 million pouches a year.
We are vertically integrated, and 90% of all of the fruit we process are within 60 miles of the plant.
We are highly committed to transforming conventional orchards into organic, a big project that started 4 years ago and that Purefruit has been leading with great success.
Food safety and product quality are paramount.
Our certifications are:
CORPORATE SOCIAL
RESPONSIBILITY
OUR MISSION
Purefruit is passionately committed to being a force for ecological and social regeneration in the living systems in which we are nested.
Our role is co-evolutionary: we become increasingly healthy and resilient alongside our soils, our community, our business partners and our clients.
We pride ourselves on this systems awareness which we have cultivated and our mission to create mutually beneficial relationships with our stakeholders and our environment.
ENVIROMENT
Increasing biodiversity and achieving system equilibrium is our main commitment with the environment.
For this, composting is key – we compost 100% of the residuals from the factory and the fields through our vermicomposting technique.
We also promote sustainable water usage to reduce soil erosion and contaminants and increase efficiency.
All of these practices benefit not only our soils and production, but also the community.
COMMUNITY
Purefruit works very hard on promoting healthy eating amongst kids.
Our goal is to promote the importance of feeding healthy food to our younger generations to help reduce the extremely high obesity rates in the country.
We have a donation program that includes local day cares, pre-schools and schools, and we also fully sponsor a local daycare (¨Jardín Los Cerezos¨) and provide full educational scholarships to local community youth.
CONTACT
Office in Santiago
Hernando de Aguirre 1915, Providencia, Santiago- Chile.
Phone: + 56 2 2679 06 00
Head Quarters (Chile)
Av. Ramón Freire 1390, Romeral, Curicó – Chile.
Phone: + 56 75 2 431 334